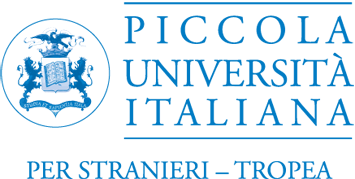 Piccola UniversitĂ  Italiana

The Italian language school by the sea – Tropea
Piccola UniversitĂ  Italiana offers 2 locations to study Italian in Italy.
The school in Southern Italy is located in Tropea, a picturesque and charming, medieval town surrounded by lush green landscapes, powder white sandy beaches and deep blue crystal clear sea. Our school is located in the heart of the old town in a lovely "palazzo" dating from the 18th century.
Recognised by the Italian Ministry of Education, University and Research and full member of IALC, our school maintains the highest standards of quality and integrity in its courses and programs. Since 1993, the year of foundation, the school has been committed to offering students, educators, affiliate universities students and agencies a rich, immersive product. For several years, the school has been working with International Agencies and Academic Institutions to host, organize and program study abroad and educational trips.
The courses are taught by first-rate mother tongue teachers with university degrees specialised to teach Italian to foreigners. Students are assigned to 15 different language levels and groups consist of max. 6 students per level.
A wide culture-, arts- and history program with educational excursions throughout Southern Italy (Campania, Basilicata, Calabria and Sicily) is available to complete this great experience. The school also offers cooking classes, wine tastings, painting courses, seminars, classical film evenings and much more. For students passionate about sport, the school organises scuba diving, catamaran sailing, windsurfing, golf, tennis, hiking and mountain biking.
The Piccola UniversitĂ  Italiana will also arrange accommodation.
Piccola UniversitĂ  Italiana is a place of great drive and ambition to succeed, where people from all over the world meet to immerse and experience authentic Italian culture first-hand.
Courses:
Group course in small groups with 3 to max. 6 persons
Customised language courses:
Specialisation in cultural subject areas
Specialisation in business subject areas
Custom tailored preparatory courses for Italian exams: CILS, CELI, etc.
Italian + catamaran sailing, windsurfing, scuba diving, MTB and painting
Custom tailored program for seniors (60+)
Sailing Trip plus language course: "L'Italiano Navigando"
USA Study Abroad Programs with academic credits

Contacts:
Piccola UniversitĂ  Italiana
Largo Antonio Pandullo 5, 89861 Tropea, Italy
Tel.: +39 0963 603284 – Fax.: +39 0963 61786
info@piccolauniversitaitaliana.com – www.piccolauniversitaitaliana.com