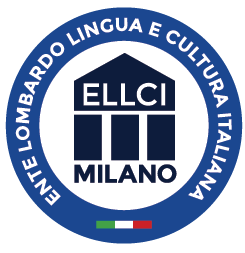 ELLCI
Ente Lombardo Lingua & Cultura Italiana
ELLCI is a school of Italian language for foreigners, recognised by the Italian Department of Education and endorsed by the Italian Cultural Institutes and by the Italian Department for Foreign Affairs.
Our long experience of teaching Italian to foreigners and the presence of expert and qualified teachers allow us to grant an efficient learning in a serene, cosy and easy-going environment.
Our school is located in a central area of Milan, a few steps away from one of the main shopping areas of the city.
ELLCI is a centre for the CELI (certificate of knowledge of Italian language) and CIC (certificate of business Italian) exams of the University for Foreigners of Perugia.
ELLCI offers Italian courses recognized by the German government as Educational leave (Bildungsurlaub) granted to the citizens of the regions of Berlin, Hessen, Saarland and Schleswig- Holstein.
Our courses are available throughout the year and we offer:
Morning and afternoon Standard courses (20 hours per week);
Annual courses and 2-year courses;
Individual courses and Intensive courses;
Corporate courses;
Study holidays and Senior courses.
Specialised courses:
Preparation courses for admission to Italian Universities and schools of fashion, design, music and business;
Preparation courses for admission to the Academy of Fine Arts of Brera;
Drawing, painting and sculpture courses.
Our friendly school team also:
finds you accommodation and looks after it while you study with us;
provides all the documents and support for the Student Visa application;
offers tutoring during all your stay;
arranges guided excursions with the teachers to places of particular cultural and historical interest.
Contacts:
E L L C I – Ente Lombardo Lingua & Cultura Italiana
Via Niccolò Paganini, 18 – Milano
Tel. +39 02 29531359
e-mail: info@ellci.it
www.ellci.it
Skype: ellcimilano1
Facebook: Ellci.Milano
Twitter: ellcimilano